---
Shopping for Hand Scrapped Photo Album supplies
Now that you have your photos all sorted and grouped (see basic scrapbooking) into the many albums you plan to do, you will need to go shopping. There is no right way or wrong way to scrapbook other than keeping things in safe acid free and lignin free environments. Decide how YOU want your albums to look. There are many options from mini-scrapbooks to full size albums. See gift ideas here. You may want to keep in mind, the number of pictures you want to include.
Some albums will have to be done in volumes if you want to be able to lift them off the shelf. Many albums also have the added advantage of being expandable so you can add more pages if needed. Remember to look at craft stores, variety stores (such as Wal-Mart or Target) as well as office supply stores for your products. We just hit the jackpot at Target with a large assortment of shapes, sizes and formats. Check out our latest purchase HERE. Just remember that your albums and page protectors must be acid free so check the labels. With the popularity of scrapbooking in this day and age, most manufacturers label their products.
Acid Free Photo Album Assortment
After you have selected your album, you will need to buy page protectors (if they are not included or not enough). Page protectors are clear plastic acid free sleeves that fit into your albums. You can scrap without the page protectors, but remember the many fingers that will thumb through your masterpiece. Oil from your hands will leave greasy marks on your pages. If your albums are in page protectors, you wonít have this problem.
Your next job will be to find acid free cardstock (heavy weight) and scrapbook papers. You can use plain colored cardstock for your pages and use background pre-printed papers to mount your photos or just reverse the project by using pre-printed papers for your pages and mount your photos with single colored coordinated cardstock. Either way, your albums will look beautiful and professional. Some scrapbook papers have frames built into their pages (a lot of ours do!). All you have to do is cut out the frame openings using a razorblade or craft knife. You can also try some of the pages on our site www.princesscrafts.com on the free scrapbook papers page. All you need to do is to download and print the pages and scrap away. We have an assortment of pages with or without frames.
Acid Free Cardstock & Scrapbook Papers
You will also be able to collect some theme (subject) appropriate stickers, die cuts (pre-cut shapes), Pre-cut frames and acid free pens. There are many products available for scrapbooking. There are also many decorative scissors and cutting systems available for purchase. Keep in mind that it may take you a few cuts to get used to these, so begin on extra photos or casual snaps, not your irreplaceable family pictures. Also, remember that those expensive templates may not be useful more than once, so be careful what you buy. A good rule of thumb is that for every dollar an item costs, you should get use on that many pages ($10.00 item should be useful on at least 10 pages). This is especially true on seasonal products.
The last step is to decide how you want to mount your photos onto your pages. There are acid free glues, photo sticker squares and photo corner stickers available. Some acid free glues are made to be able to move them around if you make a mistake and harden after sitting for an hour or so. There really are no mistakes in scrapbooking. We just have fixable ďOOPSĒ. Photo sticker squares are small square 2-sided stickers for attaching items to your pages. Your formal pictures should be mounted with photo corner stickers, as you may want to remove them at a later date for copying, etc. Photo corner stickers are triangular pre-gummed corners that you insert the photo corners into to adhere them to your pages.
Scrapbook Supplies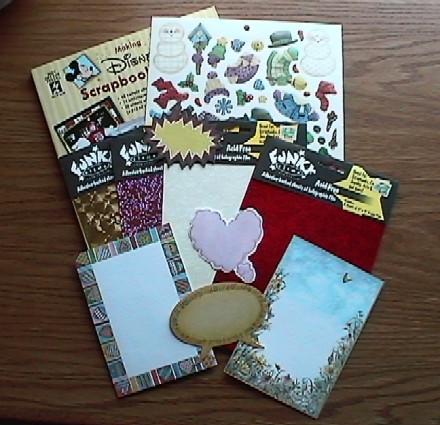 Finally, you are ready to set up shop. Select a corner or table that you can spread out in. Scrapbooking can be a messy (and time consuming) job. Avoid using your dining table if you are planning a dinner party in the near future. Try to select a place that doesnít have to be tidy looking all the time. Shoeboxes make great inexpensive organizers for scrapbook tools and supplies. Donít forget to label them though for easier searches. Try to store your photos and papers upright (as in a file cabinet) so that they stay in the best possible shape as you work. It is best if your current project can be left sitting out until complete. That way you don't have to go through the set-up phase every time you want to work on it. For me, it motivates me to work on it as I can see it just sitting there.
Scrapbooking is a time consuming hobby. Donít be surprised if your spouse comes home and you had no clue that it was so late and canít even see the tabletop. We have had many a late dinner at my house when Iíve been working on an album. Remember that Rome wasnít built in a day and neither will your album. You canít rush creative energy. If youíre stuck, come back to it at a later date or come visit our pages for ideas. With a little patience and persistence you will be able to create a lasting tribute for your family. Happy scrapping!
| | |
| --- | --- |
| | Primedia's Paper Crafts magazine inspires and instructs our readers in the world of things that can be created using paper and its embellishments, including buttons, eyelets, charms, fibers, clay, metal, ephemera, and more. Every issue features a variety of the hottest new styles and techniques for making handmade greeting cards; gifts; gift wraps, bags, and tags; party dťcor, invitations, and favors; and home accents such as boxes, frames, and ornaments. |
---