Things You'll Need
12 Cupcake Papers
400 grams of milk or dark Chocolate
24 Chocolate Mini Eggs or Candy Corn
4 Tbsp. Honey
4 Tbsp. Sesame Seeds (optional)
5 Shredded Wheat Bars
How to Make Chocolate Nests
This treat is not only delicious, but it's healthy as well. Using shredded wheat cereal as the nest makes it a perfect table topper for parties. Add some small Easter eggs for Easter or candy corn for Halloween and you've got a creative, versatile and unique treat!
Steps
Pull apart the shredded wheat into a bowl.

Break up the chocolate and place it into a measuring cup. Then place the cup into a pan of boiling water and allow the chocolate to melt.

Watch the chocolate and when you notice it has melted completely, add the honey and stir slowly.

Pour the chocolate mixture over the shredded wheat.

Add sesame seeds and mix everything together.

Put the mixture into cupcake papers. Press down the center of the mixture with your thumb to create a well and add a few mini eggs, candy corn, or anything of your choice.

Allow it to set.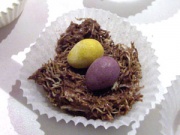 Tips
Vary the ingredient amounts for the number of Nests you wish to make.
For a healthier dessert, make your own chocolate. Use alkalized cocoa powder, macadamia nut oil, and stevia as a sweetener (stevia will normally only be in health-food stores.) For the shredded wheat, you want to be sure to read the label. Inspect the ingredients, if they include anything other than the following: 100% shredded wheat, then don't buy it. Specific key-words/ingredients to look out for include but are not limited to: Enriched, ferrous sulfate, thiamine, niacin, etc. These are merely B-vitamins and iron, but what they tell you when they're included in the ingredients is that the bread(ed) product at hand has been through over 20 processing stages to reach its current state (stripping of vitamins, adding cheap vitamins, stripping the vital wheat germ, bleaching with nasty chemicals, adding of hardeners, and many more.)
Warnings
If you are allergic to peanuts, don't add peanuts to the mixture.