Newest Reviews
Craft Business Books:
Kathy and I loved this book so much and learned so much from it that we applied in our own Scrapbook Business. In fact, we got so much out of it that we contacted David and made arrangements to host it right here in the PrincessCrafts Members area.
What's more, we added 456 custom hi-res commercially licensed Photo Greeting Card Templates to the package! You can't get these anywhere else in the world...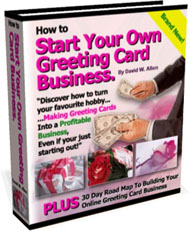 "30 days from now you could have your own thriving Greeting Card business…you can work your own hours from home…wake when you want…revolve it around family commitments – and take control of your financial destiny once and for all doing something you LOVE!"
| | |
| --- | --- |
| | Featured Books |
The Scrapbook Book Reviews:
Just a few of the books I've found and recommend. Any one of them would make a great addition to your home library.
---
Children's Books:
Mama Panya's Pancakes: On market day, Mama Panya s son Adika invites everyone he sees to a pancake dinner. How will Mama Panya ever feed them all? This clever and heartwarming story about Kenyan village life teaches the importance of sharing, even when you have little to give.

We had fun with this book -- my daughter thought the boy was just being "bratty" until we talked about how everyone contributed and how sharing led to more for everyone. Then she "got it", and now requests we read it often. The recipe for the pancakes is also easy and kids are able to help. Great book -- we also loved the illustrations -- some parts reminded us of life in Haiti which our Haitian-American kids loved

A. Miller
Broomfield, CO
Scrapbooking Books:
or
Scrapbook Titles And Phrases eBook
"... I can look up a sticker or die cut by name and find an appropriate title."
Melissa R. - Houston, TX
Which also includes these great bonus books:

The Friendly Gifts Craft Sayings E-book ($7.95 value)
and
The Friendly Gifts Scrapbooking For Beginners E-book ($7.95 value)
Get them both "Free" with your Lasting Expressions order
(Limited Time Offer... do it now!)
---
Create personalized unique gifts even if you never made a thing with your hands from these easy to follow step-by-step craft projects for any age and ability, and have fun doing it!
"Discover How To Make Easy Craft Projects
With These Simple To Follow Instructions!"
What you will find in 101 Easy Crafts e-book:
Spring projects
Easter Crafts
Mothers' Day crafts
Father's Day crafts
Summer projects
Autumn projects
Halloween crafts
Christmas crafts
Winter Projects
Crafts for All Occasions
---
This one isn't exactly a Scraping book, but since a lot of you have been asking about digital images and digital photography... Amy contacted us and said she had just the answer for all the amateur digital photographers out there. We checked it out and I have to say, even though I've taken some photography courses at the college level; this book taught me more in a couple of hours that I learned in weeks in some of my classes. This one's a keeper. So, if you want to know how to turn your average photo's into pictures you'll be really proud of, check out Amy's book:
Now you can take the digital photos you ve always wanted, have them turn out to a professional quality that you'll be supremely proud of......
.....even if you ve never used a digital camera before and don't know anything about photography.
---
Little Kid Crafts For All Seasons
"...very usefull and full of good pictures and well detailed directions." -- Donna Laurinaho, Laurium, Michigan

"...child care providers will find this product very useful for the children." -- Jaci Seerat, West Milton, Ohio
---
| | |
| --- | --- |
| | Top Reviews |
Some of the reviews are obtained from Amazon.com's site.
The Decorated Page: Journals, Scrapbooks & Albums Made Simply Beautiful by Gwen Diehn (Author)
Reviewer: Karin Bartimole from New Rochelle, NY USA
Gwen Diehn does a wonderful job of demystifying the process of creating a visual journal. With complete instructions and suggestions of what materials to use and how to use them she has given us a workshop in a book! Throughout the book are color photos of journal pages from everyday people with everyday experiences who, through their collages, writings, and drawings, show us how to make each day extra-ordinary.
How to Organize Your Scrapbook Workspace by Memory Makers
Editorial Reviews Book Description
An organized workspace makes scrapbooking quicker, easier and more enjoyable. Learn to make the most of the craft space you have available, whether it s a tiny corner or an entire room. Includes tips for planning and creating an efficient workspace, affordable storage solutions, great flea market scrapbook storage buys, options for cropping-on-the-go, ergonomically correct work solutions and ways to child-proof your scrapbooking area. Plus, advice from veteran scrapbookers that will help keep your workspace running like a well- oiled machine.
Baby Scrapbooks: Ideas, Tips, and Techniques for Baby Scrapbooks
Reviewer: Debbie Davis from Lee's summit, Missouri United States
This was a great idea book. Get this book before your baby even arrives to help give you pointers on what to take pictures of and things to keep for your scrapbook. Plus, it helps pass the time by! After my baby was born I still had "fetal-brain-drain" and needed ideas for page layouts. In the back there are ideas for page titles and poems to include in your baby's book. Well worth the money......

Memory Makers Creative Photo Cropping for Scrapbooks: Steps for Turning Your Photos into Works of Art
Reviewer: Tiffany from Kalamazoo, MI United States
This book has some great ideas. It is more than the normal scrapbook ideas with cute paper and stickers. It has so many unique ideas so that you scrapbook won't be just like everyone elses. Most of the layouts are going to be a little more time consuming than the usualy ones but would be well worth it. I have just got this book and have already looked through it about 5 times and took it to work and had everyone else (at least the scrapbookers) and they loved it too. The ideas are simple enough for the novice or advanced scrapbooker. There are also no special materials required. Most ideas only take a lot of cutting, some edged scissors and normal cardstock and paper. i highly recommend it!